NewTrendMag.org News # 1568

[ Click on NEWS for back issues ][ OUR BOOKS ] [ Women in Islam ][ Our America ][ Hadith ][ Kaukab Siddique's khutbas ][ Latest photos. ][ Imam Badi Ali's Thoughts ][ Muslim Political Prisoners ] [ Previous Issue ]

Zulqi'dah 25,1435/September 21, 2014 # 38

---


Br. Kaukab Siddique's Latest Khutba
Wealth and Children are Sources of Trial; Secretary of State Kerry's Lies about Islamic Caliphate (read)

Breaking War News
Assad used sophistacted gas attack, killing top Ahrar al-Sham commander and 28 of his officers. (read)

Spotlights & Guidance from Imam Badi Ali
The Wolf in the House (read)

Our America
CAIR incites fear among Muslims; Snowden's News on Palestine;Tarek Mehanna; Dr. Afia Siddiqui (read)

Pakistan: Catastrophic Flooding
Floods exacerbated by Gov't failure and India's control over dams (read)

UPCOMING EVENT

October 11, 2014
National Islamic Shoora of Jamaat al-Muslimeen

Host: Imam Badi Ali
Sec. Gen: Sis. Ashira Na'im
Ameer: Br.Kaukab Siddique
Adviser: Br.ShamimSiddiqui

Please send issues and/or problems which you think should be discussed to:
butshikana@gmail.com

BOYCOTT NEWS
Black seed which is very popular among Muslims has been bottled and sold by Israel to US health stores.
Read the label carefully. It is a fancy little bottle the crafty Jews have prepared.

LOCAL NEWS
On September 19, a town hall meeting was held in heart of the inner city of Baltimore to seek ways of stopping ongoing cases of police brutality. It continued from 5.30 to 7.30 and featured prominent activists of the city.

Among them:
Carl Stokes - City Council.
Corrigan Vaughn, Republican candidate seeking election
David Wiggins - Candidate for Sheriff
Dr. Kaukab siddique, Ameer of Jamaat al-Muslimeen.
Nadrat Siddique - Jamaat Activist.
Witnesses to Police Brutality:
Tyrone West's family - Tyrone was beaten to death by 10 policemen.
Family of George Booker Wells - George was murdered by Police.
Maurice Johnson's family - Maurice was also killed.
Michael Wiggins-Bey - Showed the dog bites on his leg when police invaded his home. [very eloquent]

SYRIA



Militant Islamist fighters take part in a military parade along the streets of the northern Raqqa province in Syria, June 30, 2014. Reuters


AUSTRALIA

800 Police Involved in Raids; Police won't say how many are being held.

The Australian federal police are refusing to confirm how many people are still being detained without charge as a result of counter-terrorism raids in NSW on Thursday. In a press conference on Friday the acting AFP commissioner, Andrew Colvin, refused to answer questions about how many people were being detained without charge, when the number of people detained would be made public, or whether they had been brought before a magistrate for their detention to be continued. The AFP, NSW police and the Australian Security and Intelligence Organisation took part in dawn raids in Sydney on Thursday, in what was touted as Australia's largest counter-terrorism operation ever.

'Stop terrorizing Muslims': hundreds join Sydney protest against terror raids

Signs reading "terror raids cannot break the spirit of Muslims" and "stop terrorising Muslims" were waived by about 10 people among the 200 who rallied in western Sydney to demonstrate against a series of pre-dawn anti-terrorism raids.



The protesters met outside Lakemba train station on Thursday night for the snap action, organised via social media.

About 50 people were watching from across the road.The event was promoted under a banner featuring the hardline organisation Hizb Ut-Tahrir and is calling on the Muslim community to "stand as one" against "government aggression".

"Women, children should be safe from the terror of the state," they chanted.

The signs had small Hizb Ut-Tahrir Australia logos.

The atmosphere was calm with most people arriving and greeting friends and acquaintances before quietly congregating in a little park next to the train station.

The rally comes after after 15 people were detained during Australia's largest counter-terrorism operation.

"We're not hear to disrupt security," Hizb Ut-Tahrir speaker Uthman Badar told the crowd. "Muslims are as much concerned about security and peace as everyone else." The Muslim community would be "fools" if they were deceived by the spin being used to politicise security issues, he added.

He said the raids were about creating the "hysteria" needed to make the Muslim community scapegoats.

"We reject the terror laws, they only serve American wars," the crowd chanted before Mr Badar added that western foreign policy was responsible for terrorism.
"We're not fools. We know what the intent with all of this is," he said. "The people that are leading this, the govt and its agencies ... the world has not seen greater terror that what they have infected around the world."
An incensed young man who said his mother was punched by police as the family's home was raided on Thursday morning yelled at the crowd to "wake up." "What are you going to do about it? Talk? Seriously? Talk?" "May Allah curse these dogs."

Br. Kaukab Siddique's Latest Khutba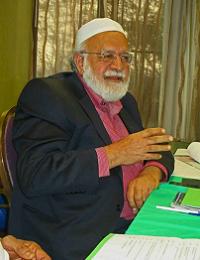 On September 19, Br.Kaukab Siddique gave the juma' khutba in central Baltimore, MD. As it's a small mosque and issues are extremely important, the main points of the khutba are summarized below for nationwide distribution.

Text: "Your wealth and your children are FITNA, whereas Allah! with Him is an immense reward." [Qur'an 64:15]


Part 1:

Wealth and Children Sources of Great Disruption, Temptation & Trial - FITNA [specially in USA].



Part 2:

Secretary of State Kerry's Blatant Lies about IS [Islamic Caliphate]. Hypocrisy & "Muslims."
Islam does not see wealth as a reason to praise, imitate or follow anyone. The Qur'an calls it FITNA, a source of disruption, conflict and deviation from faith in Allah.


In America, rich people are seen as role models. The wealthier they are, the more they are praised. Some are adored and almost worshiped because they are entertainers such as Beyoncé and JZ.


The way wealth can be a blessing is when it is spent in the way of Allah, for charity, struggle against evil and to bring prosperity to all rather than to a few.


The greatest example of turning wealth into a blessing is the life of Usman, r.a., one of the holiest Companions of the Prophet, pbuh, who gave away so much that it boggles the mind. All the sahaba are good examples.


Usman, r.a. above all other not only owing to his incomparable charity but also owing to his compilation of the Qur'an and the way he accepted martyrdom. He is targeted by sectarians; hence we must study his life with more attention.


Children are a great blessing but they can also hurt us the most because they are so close to us. Their fitna can tear apart our hearts. Look at the example of the son of Noah, pbuh. He ridiculed his father's faith and refused to enter the boat of faith and trust in Allah Noah constructed. He could not believe that a flood can come which would drown even the mountains.


Look at our own society, how even the children of Muslims go astray, getting into liquor, gambling and fornication. They can really hurt us by bringing the devil into Muslim homes.


Islam does not run in families. Islam is a choice. Each of us must make that choice. Even a prophet's son was not exempt from fitna.


Part 2:


Hypocrisy is a major problem in times of conflict. Many people with beards, who pray and fast, side with the enemies of Islam. Hypocrites used to pray even in the mosque of the prophet.


We can defeat hypocrisy by asking the question: Whose side are you on?


We have kings who claim to be Muslims but Islam has made kingship HARAM. Allah Alone is the King.


Islam teaches Caliphate as the authentic form of Islamic rule. All the enemies of Islam will oppose Caliphate.


Muslims should note the daily attacks on the Caliphate [IS] in he media. Do not be fooled. These are attacks on Islam.


We all know that the media lie on almost all issues, be it police brutality or political prisoners or war.


In spite of knowing this daily burst of lies from the media, when the SAME media attack ISIS, we start believing it.


Secretary of State John Kerry is a Kafir. He has gone to the extent of saying that ISIS is "mutilating, raping and killing women." He does not have a shred of evidence for this blatant LIE. These are strict Muslims and for them rape is a capital crime. Rape is common in America. Kerry has not spoken against it.


During the Jewish Zionist assault on Gaza, almost 500 children were killed along with 1500 other civilians by the Israelis using weapons supplied by the US. Mr. Kerry has not recognized the death of even ONE child. With those moral standards, on what basis can American imperialists dare speak against the Caliphate.


Do not be fooled by the media hype against IS. Whenever Muslims set up the Caliphate, it will be attacked by the Western powers.


Pray for the victory of the Islamic battle formations around the world.
---

Spotlights and Guidance
from Br.Badi Ali


The Wolf in the House


If you have a large house with 10 rooms and a wolf enters your house, would it be wise for you to continue to think you are safe and secure. (This is happening with our nations and Israel running rampant.)


Change your thinking and your life will change. It's as simple as that.


Happiness can happen with praise and positive self talk,


Future will be bright for Muslims if they remove their sun glasses and see the reality.


You cannot change by sitting, watching TV and eating from a bag of potato chips.


If you believe in Islam, why not convey the message and show the example?


Break the cycle of weakness and defeat by action.


Action means exposing falsehood and speaking the truth.


Change the world instead of hiding from the world.


Begin by helping your wife and your daughters because they can ,learn fast from you and pass on what is good to those whom you cannot reach.


Imam Badi Ali is a Palestinian American who leads a large congregation in Greensboro, North Carolina.


---



Pakistan

Catastrophic Floods exacerbated by the Pakistani Government's failure to implement an effective flood warning system and by India's control over the dams.

LAHORE, Sep. 19: The central Shoora of the Jamaat e Islami, Pakistan, has expressed deep grief over the heavy losses of life and property caused by the floods and deplored that the government had failed to take necessary steps to protect the masses from the calamity.

A resolution adopted by the Shoora stressed upon the rulers to adopt an effective strategy to stop India from building dams on the Pakistani rivers and enforce an effective flood warning system. It urged the government to lodge protest with New Delhi over the sudden release of flood water and take up the matter with the international forums.

It also demanded implementation of the report of the Flood Commission, 2010 and setting up a judicial commission to look into the government lapses behind the recent and the current year floods. It demanded immediate and adequate compensation for those affected.

---

War News

Pakistan

After Pakistani genocide in North Waziristan, Pak Taliban return, Attack Pakistani troops.

On September 17, Pakistani Taliban mujahideen re-entered North Waziristan from Afghanistan and attacked Pakistani troops. The Pakistanis suffered heavy casualties despite their use of artillery to stop the Pak Taliban. Its a serious setback for the US-backed military which claimed that it had "pacified" North Waziristan. [Military is refusing to let journalists in or to reveal its exact casualties.]

In the heavy fighting, the a senior commander of the Pak Taliban, Muhammad Hassan, was martyred. Pakistan's pro-regime daily Dawn has published a picture of Hassan's funeral prayers led by Islamic fire brand Maulvi Fazlullah, Praying behind him is Maulvi Sajna whom the Paki military had worked hard to try and turn against Fazlullah. [The picture was released by Pak Taliban and is in Dawn.]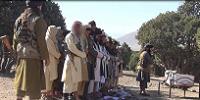 Maulvi Fazlullah leading funeral prayers. [photo Dawn]

Navy Yard Takeover Bid: Earlier in September, al-Qaida tried to storm the Paki navy yard in Karachi. Paki news indicate that several officers in the navy were instrumental in the attack. With casualties on both sides, Paki security forces crushed the attack and indicated to the media that it was a minor event. Close reading shows a bid to take over a navy submarine.

Palestine

September 12: Germany has given Israel a Dolphin class submarine capable of firing nuclear weapons at Arab capitals.

Germany is second only to USA in providing resources to the terrorist entity known as Israel. Germany has made it illegal to question the Jewish holocaust narrative. Germany's heroes are villains in the books of the rulers of this emasculated, mentally castrated, state.

Afghanistan

NATO Troops attacked Yards from the US Embassy in Kabul.

Sept 16. Associated press reports that a martyrdom operator attacked a NATO military convoy in the mosr secure area ofKabul, only yards from the US. Three NATO troops were killed and 20 wounded. It appears that some of them were from Poland.

Earlier in Laghman city, a Taliban attack killed 4 policemen mobilized by the US installed regime in Kabul.
Another NATO trooper was killed by a Taliban gunman in eastern Afghanistan who had joined the US organized Afghan troops.

Nigeria

Increasing Tempo of Fighting on the Nigeria-Cameroon border. Islamic forces Advance.

September 19-20: Reuter reports: Boko Haram Islamic fighters stormed the town of Mainok in northeastern Nigeria. At least 36 people were killed in the fighting. Boko Haram also attacked Cameroonian forces in two villages near the Nigerian border after Cameroon declared all out war on Boko Haram. They entered the Cameroon village of Mokolo. [AFP]

On September 17, Boko Haram raided the major city of Kano and carted away truckloads of food and other resources. Looks like they are starving. At least 15 people were killed in the attack. [Reuters]

Syria

Islamic State [IS] Captures 60 Villages on Turkish Border

September 16-21 [Source AFP]

In a lightning attack, mujahideen of ISIS swept across the northern Kurdish region on the Turkish border in two days and captured 60 villages. Now they are mobilizing to take the key city of Ain al-Arab [Kobane in Kurdish]. Kurdish fighters are pouring into the town from Turkey, mostly PKK Communists, to resist the advance of the Islamic State [IS]. The population has been fleeing across the border to Turkey. Stories about the "brutality" of IS has panicked the Kurds.

Yemen

Houthi Shia tribe enters Sanaa, the capital city.

After days of fighting between Shia Houthi militia and Sunni militias, the Houthis captured key points in the capital Sanaa. The Prime Minister has resigned and talks for a deal between the two sides are underway.

[In southern and eastern Yemen, large areas are under the control of al-Qaida despite strikes by US drones which have killed scores of people.]

Egypt

Armed Resistance to General Sissi's Regime Building Up.

September 21: A bomb attack at the Foreign Ministry in Cairo killed 2 policemen and wounded 6. [AFP]

Spying for Israel & Sissi: September 10: Ansar Bayt al-Maqdis executed 8 Egyptians in the Sinai over a one month period. They were accused of spying for Israel and Sissi which led to an Israeli air strike which killed 3 Islamic fighters.

In Egypt proper, in North East Dakahlia there was an attack on a police officer's car which killed his son. [General Sissi killed more than 1500 unarmed demonstrators supporting the Muslim Brotherhood last year but MB strongly opposes all armed attacks on Sissi's forces.]

[September 20] In latest news, a kangaroo court set up by Sissi sentenced to death 5 Muslim Brotherhood activists on bogus charges of having killed a policeman. [Source Reuters]

Lebanon:
Hizbullah Post Blown Up

September 20: [Khrabeih area of Bekaa valley.] A martyrdom operator blew up a military check post of Hizbullah killing all its personnel. [Total not revealed.] The explosion was so powerful that it also wounded Hizbullah troops in the nearby area.[Reuters]

Lebanese army supporting Hizbullah opened heavy artillery fire on al-Nusra Islamic fighters in the Lebanese border town of Arsal killing 11. In response the local al-Nusra [not Syrian] killed 2 Lebanese soldiers and beheaded a third.

Iraq:
Peshmarga slaughtered but Irbil saved.

September 19: BBC interviewed Peshmarga fighters lying wounded in hospitals in Irbil. More than 200 Peshmarga, BBC says, have been killed in attempts to stop the mujahideen of IS advancing on the north eastern city of Irbil. Several hundred more were wounded. However the Islamic advance was stopped by US air strikes. At least 50 Islamic fighters have been killed in US air strikes.

One of the Peshmarga told BBC that it's difficult to stop IS because they "come wanting to die.]

September 20: Islamic State [IS] fighters have surrounded 400 Iraqi Shia regime troops in Sijir, west of Baghdad. The Iraqi Shiite forces from Baghdad [armed by the US] are trying to break through to save the 400 and are moving forward with tank and helicopter attacks. [Fighting continues.]

There have been several bomb attacks on Shi'ites in Baghdad.

Turks Released.
ISIS released 45 Turks held in Mosul. They were given a big welcome in Turkey and appeared in good health and well dressed in clothes provided by IS.

---

"Those who thought that CAIR is not the voice of Imperialism and Zionism should read this and do TAWBA" - New Trend Editor

CAIR's Nihad Awad, a long time bootlicker of the Zionist power structure published this slavish article in Time Magazine, Sept.5.
Here is Nihad Awad uncut:

ISIS Is Not Just Un-Islamic, It Is Anti-Islamic

If we want to stop ISIS, we must deny it any claim to represent Islam and starve it of the fuel of injustice

Despite misappropriating and misusing the name "Islamic State," ISIS is little more than a criminal gang that attaches itself like a leech to revered symbols of Islam. It exploits counterproductive Western policies driving desperate people into its fold and uses injustices in the Muslim world as a smokescreen to cover its own cruelty.

When ISIS uses the Islamic declaration of faith, the Shahada, and the Prophet Muhammad's (peace be upon him) seal on its flag, it quite literally - and falsely - claims to uphold the banner of Islam. When ISIS says it is establishing a "Caliphate," an historic term that resonates with Muslims worldwide, it does so to fool those who have experienced nothing but injustice and oppression into believing past glories will be restored.

Unfortunately, the media, political analysts and public officials - really all of us - are unwilling participants in ISIS's public relations branding campaign. Every time we refer to ISIS as the "Islamic State," call its members "jihadists" or in any way grant it the religious legitimacy that it so desperately seeks, we simultaneously boost its brand, tarnish the image of Islam and further marginalize the vast majority of Muslims who are disgusted by the group's un-Islamic actions.

Islam prohibits the extremism exhibited by ISIS. An essential part of the faith is moderation.

As the Quran, Islam's foundational text, states clearly: "We made you to be a community of the middle way, so that (with the example of your lives) you might bear witness to the truth before all mankind." (Quran, 2:143)

The Quran also states: "O you who believe! Stand out firmly for justice, as witnesses to God, even against yourselves, or your parents, or your kin, and whether it be (against) rich or poor: for God can best protect both." (Quran, 4:35)

Literally, jihad means to struggle, strive and exert effort. It is a central and broad Islamic concept that includes struggle against evil inclinations within oneself, struggle to improve the quality of life in society, struggle in the battlefield for self-defense (e.g., having a standing army for national defense), or fighting against tyranny or oppression.

While Islam allows legitimate self defense, it prohibits the killing of non-combatants, even in times of war or conflict. Aggression is never permitted. "And fight in the cause of God those who fight against you, and do not commit aggression. Indeed God does not love those who are aggressors," (The Quran, 2:190).

Extremist Muslims who commit crimes like those carried out by ISIS should be called criminals. We must not legitimize their actions by calling them jihadists. The American Muslim community and Muslim scholars around the world have repudiated and rejected ISIS's twisted ideology, calling it not just un-Islamic, but "anti-Islamic."

The Organization of Islamic Cooperation, the "Muslim U.N.," said ISIS has "nothing to do with Islam," and has committed crimes "that cannot be tolerated." Along with denying ISIS religious legitimacy and severing its links to revered Islamic symbols and terms, we can deny it a smokescreen for its injustices and stop driving suffering people into its arms by changing our own policies.

There would be no ISIS in Syria if we had fully supported the struggle for freedom in that nation since 2011. It was only the political vacuum created by our lack of support for the mainstream opposition to the brutal Syrian regime, and the resulting slaughter of more than 200,000 people and the displacement of millions more, which gave ISIS space to form and grow.

We need to support the mainstream Syrian political and military opposition seeking freedom and democracy. A free and democratic Syria and region is the long-term guarantee for the defeat and marginalization of groups like ISIS.

We also need to support democracy and human rights in Iraq, Egypt, and throughout the region. The fanaticism and barbarism of ISIS and other terror groups is fueled by the brutal repression of dictatorships that are sadly often supported by the United States. Religious fanaticism and political oppression are mirror images of each other and lead to the same bloody results.

ISIS was only able to penetrate Iraq because we for too long backed a government that completely marginalized the Sunni Muslims and other ethnic and religious minorities. Iraqis who faced being shot at a government checkpoint for being a member of the "wrong" sect found out too late that ISIS was a worse alternative. If we want to stop ISIS, we must deny it any claim to represent Islam and starve it of the fuel of injustice. It is up to our political leaders to take the lead through a comprehensive international strategy, not in the number of bombs that can be dropped, but in the establishment of the freedom and justice that will spell the end for ISIS and its ilk.

Nihad Awad is national executive director of the Council on American-Islamic Relations (CAIR), the nation's largest Muslim civil rights and advocacy organization.

---

Our America

Our America: Pro-Zionist Hate Group in Action.
CAIR incites fear among Muslims making Geller and other Zionist gangsters Bolder by Sis. Aisha [Jamaat al-Muslimeen New York City.]

We have known for years that this war on terror is actually a war on Islam. The kuffar have equated Islam with terrorism. Once again, some Islamaphobic group is forcing the Metropolitan Transit Authority to run ads in an anti-Islamic campaign.

New York City - They are at it, again! A group called American Freedom Defense Initiative, run by Zionist Pig Pamela Geller, has submitted a series of anti-Muslim ads to the Metropolitan Transit Authority. However, the MTA has refused to run most of the ads for fear that they will incite mob violence against Muslims. In 2012, a federal court ruled that the MTA could not refuse to run controversial ads because groups have a First Amendment right to expression through those ads. Back then, the offender was the same: Pamela Geller, who also runs the Zionist group Atlas Shrugged, which is vehemently opposed to Islam anywhere in the world.

However, the MTA can refuse to run ads that they believe may incite harm to others. In this case, the ad the MTA refused read: "Killing Jews is Worship that draws us close to Allah." - Hamas MTV That's His Jihad. What yours? Obviously the ad is inciting violence against Muslims. Pamela Geller claims that the goal of the group's ads is to educate Muslims about the immorality of Islamic extremism. One of the other ads shows images of James Foley before his beheading by the Islamic State.

This Obamanation in the White House is misusing American Law to make it illegal to practice Islam in America! They are punishing us for making contact with other Muslims on the other side of the World. They have placed a certain amount of Muslim countries on some terrorist country list automatically turning us into criminals for having traveled there 20 years ago! The Muslim Community is no better off now than it was before 9/11/2001.

The kuffar had help and it was fake Muslim organizations such as, C.A.I.R., I.S.N.A., and M.S.A. These double agents have not only worked with the Justice Department but, bragged about their special, close relationship with this oppressive entity! These organizations have NEVER put together any strong response against the kuffar in defense of Islam. They only give interviews and press releases expressing fear of attacks on Muslims, C.A.I.R. is very good at trying to incite fear among Muslims.

Just as Black-Americans are NOW getting wise to Rev. Al Charlatan's tactics and have begun to turn away from him and Uncle Jesse, I pray that Muslims start to turn away from these fake Muslim organizations, as well.

I do see more younger Muslims speaking out and organizing more. Al-humdulillah. I wrote a letter to the MTA expressing my views about the American Freedom Defense Initiative's ad campaigns.

Our America: War Against Islam

Mujahideen overseas call for Dr. Aafia's freedom. Aafia Ends all her appeals.by Sis. Aisha [Jamaat al-Muslimeen New York City.]

An article in Yahoo! News claims that the Islamic State wanted Dr. Aafia Siddiqui freed in exchange for journalist James Foley's freedom, as well as the termination of U.S. airstrikes in Iraq and Syria, but, they eventually beheaded Foley when their demands went unmet.

Unfortunately, Dr. Aafia Siddiqui wrote a letter to U.S. District Court Judge Richard Berman, in Manhattan, on July 2nd seeking to end all of her appeals. He has yet to respond to her letter. Dr. Siddiqui indicated in the letter that she would rather be freed and return to Pakistan under some form of diplomacy rather than through the justice system, which she deems unjust. She has been sentenced to 86 years in prison for the attempted murder of F.B.I. agents. Her trial was a sham and so was her conviction. Her attorneys have stated that they do not believe that Dr. Siddiqui understands the ramifications of her request. She resides at the Federal Medical Center Carswell, [Texas] which severely restricts any outside contact with her.

However, she continues to garner support all over the Muslim World, al-humdulillah. The Taliban, Al-Qaeda, and the Islamic State have all offered prisoners in exchange for her freedom, along with other demands.

Editor's Note: Foley's mother, a very eloquent woman, says the US government threatened her with persecution if she collected funds to have him freed-- [Interview with CNN]

Our America: Snowden's Shocking news on Palestine
[from CLG, Citizens for a Legitimate Government, Connecticut]

Edward Snowden accuses U.S. of sending communications of private Palestinian-American citizens to Israel --Claims messages could make relatives of Americans in Israel and Palestine into targets --Memorandum between the NSA and its Israeli counterpart shows transfers may have occurred since 2009 19 Sept 2014 Former U.S. intelligence analyst Edward Snowden has accused the U.S. National Security Agency of routinely passing private, unedited communications of Americans to Israel, an expert on the intelligence agency said Wednesday. James Bamford, writing in the New York Times, said Snowden told him the intercepts included communications of Arab- and Palestinian-Americans whose relatives in Israel and the Palestinian territories could become targets based on the information. 'It's one of the biggest abuses we've seen,' Bamford quoted Snowden as saying.

Our America: No justice for Muslims.

Tariq Mehenna:Devoted to Peaceful Change Sentenced Beyond Decency. The Suffering of a man of God Bearable owing to his Deep Faith in Allah. by Sis. Karin Friedemann [Boston]

Tariq Mehanna, who was sentenced to 17 1/2 years on bogus terrorism support charges in Boston federal court in 2011, has shown himself to be a model of patience and gratitude to God as he sits in the CMU Marion. In a recent letter to this author, Tariq wrote: "Things are OK, though. I've got peace and quiet, and time to read and think, which is worth more than the world in gold."

Tariq, now 32, was imprisoned for thought crimes, namely the online translation of ancient Arabic texts on jihad, but he believes the charges came in retaliation to his resistance to the FBI's bid to make him an informant.

"No evidence linked him to actual acts of terrorism or suggested that he had conspired with a real-world terrorist organization or provided any terrorist group with property, advice assistance or the like," reported Amna Akbar in the Nation.

Despite this tremendous setback, the young man has chosen to use his time wisely, producing scriptural commentary to be disseminated throughout the internet. His new article, sent out on September 6, 2014, begins:

"You would likely find the prison environment to be boring. The color scheme of the place - an exotic array of grays and off-whites - itself does wonders in dulling the mind. Most people cannot live without entertainment, and entertainment options are limited in here. Prisoners typically opt for TV. Since I don't watch much TV, I thus spend quite a bit of time in my cell reading. My reading is all over the place (history, sociology, astronomy, medicine, and plenty of newspapers), but the field most enjoyable to me is that of Hadith."

He mentions a hadith that has particular significance to the prisoner in isolation: "It is related that the great scholar and Mujahid, 'Abdullah bin al-Mubarak, used to spend a lot of time alone. He was once asked: "Aren't you lonely, sitting by yourself?" He replied: 'How can I be lonely while sitting with the Prophet (peace be upon him), the Sahabah, and the Tabi'in?' He was referring to the books he was surrounded with that contained their life stories and narrated statements. Each time such a book is opened, the reader is indeed reaching back through time, to another part of the Earth, to meet the Prophet and the thousands of people who comprised the best generations of human history, and to learn from their wisdom."

He takes comfort in knowing the the Prophet (pbuh) gave his glad tiding to the Believers that would come later, especially toward the End Time, because they believed in him even having never seen him. Yet Tariq also notes how the Believers are indeed persecuted outcasts in the present day just as they were in the beginning of Islam.

"Were the Sahabah to visit our world, they would be walking into a repeat of this. Just as they saw the Makkans having invented for themselves a religion containing mere remnants of the teachings of Ibrahim, the Sahabah would see the 'Western Islam' the people have invented for themselves today and recognize nothing but remnants of what they were taught by the Prophet in Madinah. Of all things, they would be most saddened to see many claimants to Islam still clueless about what he taught is the very tightest bond of Iman itself: Wala' & Bara' - this despite the untold amount of material that has been authored and translated into every imaginable language on the topic, and despite us living in an era where the enemy has done away with all pretense. The Sahabah would wince at the fact that while the hypocrites they faced in Madinah at least were opportunists who sided with the believers when they had the upper hand, today's hypocrites unconditionally side with the enemy through thick and thin."

Tariq reminds us that Ibn Taymiyyah also wrote that "it has been authentically reported through numerous chains of narration that the Prophet said: "There will always be a group of my ummah that is victoriously upon the truth until the Hour comes, and they will not be harmed by those who abandon or oppose them."

Tariq continues: "Commenting on that same hadith, an-Nawawi wrote: 'It could be said that this group is dispersed between the various categories of believers. Some of them are courageous warriors, some are experts in Fiqh, some are experts in Hadith, some are ascetics, some are those who enjoin what is good and forbid what is wrong, and some are known for other forms of good. And they are not necessarily concentrated in one location. Rather, they could be scattered throughout the Earth.'"

Under the most difficult circumstances our brother reminds us that there is nothing more important than striving in the way of Allah for truth and justice. At the end of this month, the US Supreme Court will decide whether or not to take on his case.

Write to him at: Tarek Mehanna #05315-748, Marion CMU, PO Box 1000, Marion, IL 62959 or look up his support pages on Facebook.

---

From Jamaat al-Muslimeen Virginia: Archive of Kavkaz
Sheikh Abu Zubair Adil al-Abab on: The Reality of the Rulers

Answering the claim that Mujahideen are fighting other Muslims [Saudis, Egyptians etc] and should be condemned.


Praise be to Allah, Lord of all creation, Who says in the Quran: "That the way of the sinners may be shown up". (The Holy Quran, Surah 6. "Cattle, Livestock", verse 55)
Prayers and peace upon the most honored of the Prophets and Messengers, Muhammad bin Abdullah, the honest and truthful, who says in the blessed Sunnah: "The bonds of Islam will be broken one by one. Every time a bond is undone, the people will cling to the bond that follows. The first of these bond is rulership and the last is prayer." Reported by Ahmad and Tabarani. Al-Hakim stated that the chain is authentic.

To proceed:

He who examines the biographies of the early (Muslims) and how they dealt with unjust imams would find among the noble Companions and followers those that revolted against leaders of tyranny and injustice by the sword and by force. The revered Companion Abdullah bin Zubair, may Allah be pleased with him, revolted in Mecca and captured it for no reason other than the injustice which prevailed there. Hussain bin Ali, may Allah be pleased with him, rebelled against Yazid bin Muawiya. Moreover, Abdullah bin Abbas advised him to go to Yemen to plan and train.

Others did not revolt, such as the revered Companion Abdullah bin Umar, may Allah be pleased with him, among others. The pages of history books have recorded numerous biographies of noble ulema, great jurists, revered Hadith scholars and powerful interpreters of the Quran who rebelled against unjust and tyrannical leaders, such as Said bin Jubayr, al-Shaabi, Ibn Abi Leila, al-Buhturi and others. Those ulema who recite the Quran joined with Abdul Rahman bin al-Ashaath in revolt against al-Hajjaj bin Yusuf al-Thaqafi. Their number was 100,000 or more. Imam al-Jassas, a Hanafi jurist, said of Imam Abi Hanifa, who died in the year 150 Hijri, may Allah have mercy on him, that his school (of religious jurisprudence) was famous in battling tyranny and unjust imams.

Likewise, Imam Malik, may Allah have mercy on him, deemed it appropriate to revolt against unjust and tyrannical rulers. Imam Ibn Jarir reported that when he (Ibn Malik) issued a verdict to the people in favor of the actions of Muhammad bin Abdullah al-Hasan, who revolted in the year 145 Hijri, he was told "On our conscience is allegiance to al-Mansur." He said: "You were forced to swear and allegiance cannot be compelled." Here ends his words as reported in Ibn Kathir's book al-Bidaya wal-Nihaya.

So it was with the disciples of Malik afterwards. Yahya bin Yahya al-Laithi, a jurist of al-Andalus, and Qar'us bin Abbas, were among those who rebelled against the rule of bin Hisham bin al-Dakhil in 202 Hijri, as was reported in Ibn alAthir's book al-Kamil and in Qadi Iyad's book Tarteeb al-Madarik wa Taqreeb al-Maslik.

Also, Imam al-Nawawi reported in his book Sharh Sahih Muslim that the Imam al-Haramain and Shafa'i jurist Abu al-Mu'ali al-Juwayni said: "If a temporal ruler commits an outrage and his tyranny and injustice become evident and he does not restrain himself when verbally rebuked for his ill-doing, the people of influence may act together to overthrow him even by drawing weapons and launching wars."

Among those who also believed in the permissibility of rebelling against an unjust imam were the Hanbali jurists Ibn Razeen, Ibn Aqeel and Ibn al-Juzi, as was reported in Abdullah Umar's book al-Imamatu al-Uzma. Among the ulema that rebelled against unjust rulers in their day was Imam Ahmad bin Nasr al-Khaza'i until he was killed. He was praised by Ahmad bin Hanbal and was mentioned in Ibn Kathir's book al-Bidaya wal-Nihaya.

Praise Allah, if this is in regard to unjust leaders, then what about the rulers of our day who are allies of the Jews and Christians and work together to sell Bait al-Maqdis to the Jews and to strike Gaza and the Mujahideen everywhere under the pretext of combating terrorism. Those who rebelled against the rulers of their times found justification in a collection of evidence. As the Almighty said: "But My promise is not within the reach of evildoers". (The Holy Quran, Surah 2. "The Cow", verse 124)

They also used the general evidence commanding the enjoining of what is right and forbidding what is wrong and destroying it. Among those who opposed rebelling against unjust rulers were Imam al-Tahawi and al-Nawawi. This was favored by the interpreter of al-Tahawi and also Ibn Hajar and those who followed their doctrine.

Based on the above, we see that the Salaf differed on the issue of rebelling against unjust and tyrannical leaders. Then why do we see some people propose the issue as if it is decisive and indisputable? On the other hand, if we condone refraining from rebelling against unjust leaders, because of this unexpected difference, does that permit us to submit to or be silent about apostate rulers? The existing consensus, old and new, is that the Imamate may not be contracted to a kaffir (infidel). The Almighty says: "And never will Allah grant to the unbelievers a way (to triumph) over believers". (The Holy Quran, Surah 4. "The Women", verse 141)

One of the ways for the unbelievers to triumph over the believers is for there to be a ruler and commander over them who rules them by his whims, rules and laws. The Almighty said: "And follow not the bidding of those who are extravagant, Who make mischief in the land and mend not their ways". (The Holy Quran, Surah 26. "The Poets", verses 151-152)

Ibn Abbas, may Allah be pleased with him, reported that the Messenger of Allah, prayers and peace be upon him, said: "Whoever changes his religion, kill him". (Narrated by al-Bukhari).

No two (individuals) can disagree that whoever replaces the law of the Most Merciful with man-made laws is a kaffir of the greatest degree and excommunicated from the faith. The Almighty said: "What! Have they partners who established for them some religion without the permission of Allah? Had it not been for the Decree of Judgement, the matter would have been decided between them (at once). But verily the wrong-doers will have a grievous penalty". (The Holy Quran, Surah 42. "Councel, Consultation", verse 21)

And the Almighty said: "They take their priests and their anchorites to be their lords in derogation of Allah, and (they take as their Lord) Christ the son of Mary; yet they were commanded to worship but One Allah. There is no god but He. Praise and Glory to Him. (Far is He) from having partners they associate (with Him)". (The Holy Quran, Surah 9. "Repentance", verse 31)

Today we see that the rulers of the Peninsula have replaced the way of Islam with secularism. This in itself is apostasy and kufr (that places you) outside the faith. The Almighty said: "If anyone desires a religion other than Islam, never will it be accepted of him; and in the Hereafter he will be among the ranks of those who have lost (all spiritual good)". (The Holy Quran, Surah 3. "The Family Of 'Imran", verse 85)

The rulers of the Peninsula are infidels by their recognition, and adherence to the resolutions of the United Nations as an authority to which to appeal, and work according to its charters and man-made laws, in violation of all that Allah has ordained. The United Nations system is based upon the abrogation of Islamic law and nullifying the boundaries which preserve life and is established upon laws from the waste of human ideas.

Recognition of the resolutions of the United Nations is stipulated in their constitutions and enforced in reality or else their countries would not have been recognized by the (United Nations).

Moreover, what makes the rulers of the Peninsula kaffir is that they have allied themselves with Jews and Christian rather than the Believers, they have disclaimed association with the Believers and supported the kuffar against the Mujahideen. The Almighty said: "Let not the believers take for friends or helpers unbelievers rather than believers: if any do that, in nothing will there be help from Allah, Except by way of precaution, that ye may guard yourselves from them. But Allah cautions you (to remember Himself); for the final goal is to Allah". (The Holy Quran, Surah 3. "The Family Of 'Imran", verse 28)

In his tafseer of the Almighty's words, "In nothing will there be help from Allah", the Sheikh of the interpreters, Muhammad bin Jarir al-Tabari said: "This means that he who has abandoned Allah, Allah has abandoned him, because of his apostasy and his entry into kufr." His words, may Allah have mercy on him, end here.

The Almighty said: "If only they had believed in Allah, in the Messenger, and in what hath been revealed to him, never would they have taken them for friends and protectors, but most of them are rebellious wrongdoers". (The Holy Quran, Surah 5. "The Table Spread", verse 81)

And the Almighty said: "O ye who believe, take not the Jews and Christians for your friends and protectors. They are but friends and protectors to each other. And he amongst you that turns to them (for friendship) is of them. Verily Allah guideth not a people unjust". (The Holy Quran, Surah 5. "The Table Spread", verse 51)

When we approach the truth of the rulers of the Peninsula from the perspective of al-Wala' wal-Bara', we find that Ali Abdullah Saleh has cooperated with the Americans in killing Sheikh Abi Ali al-Harethi and his companions in support of (the Americans). We find that the record of the House of Saud in waging war against Islam and working with its enemies is a long record, and no sane person would doubt that its relationship with America is one of servitude and clientage. The House of Saud supported the atheist socialist regime in south Yemen during the summer war of 1994 with over 300 million dollars! They supported the Christians of south Sudan and they delivered back to the socialist rulers of their countries, many preachers who had fled from the tyrants of their homeland and sought refuge in the holy precinct. They opened their airports to the Americans to strike the Muslim people of Iraq. All of this is evidence of their friendship and support to the enemies of Religion. And they continue to ally with them and provide them with oil and food.

In addition to the above, the rulers of the Peninsula had all previously signed an alliance with the Americans against the Mujahideen, the so-called war on terrorism. This in and of itself is loyalty to the Crusaders and enmity to the Muslims. The rulers of the Peninsula are kaffir because they opened offices for spying on the Mujahideen, indeed on the Muslims in general. This is real assistance for the benefit of the Zionist-Crusader campaign and the ruler of Yemen has openly acknowledged the presence of FBI and CIA offices in Sanaa and Aden.

These offices are also present in the Emirates and Qatar. In most places they are to be found at the site of the American embassies located throughout the Arabian Peninsula and they have rendered great service (to the Americans).

It was through one of these offices that the Emirates handed over the Mujahid Abdul Raheem al-Nashiri, and others of the Mujahideen. The rulers of the Arabian Peninsula are kaffir because of their propagation of infidel beliefs. They have opened the field to the secularists and the polytheists, such as the polytheist and esoteric Qarmathianism and non-religious sects.

This is in plain view! The esoteric rituals being observed in Yemen by those who worship other than Allah are under the protection of Ali Abdullah Saleh and this is occurring not far from us. Among the examples of propagating polytheistic beliefs is the permission given by the House of Saud for idolatrous rafidites to practice their polytheist rites in al-Baqi', Mecca and al-Shaqiyah.

This is also the case in Bahrain and Kuwait. They are kaffir because of the assistance and protection they provide to the American combatants deployed on the coasts, shores and islands of the Red Sea and Arabian Sea, supplying them with all necessary supplies of fuel and food, and their opening of military bases and camps for the Crusaders across the lands and islands of the Arabian Peninsula.

The presence of the destroyer (USS) Cole in Aden, the American bases in the Bab al-Mandeb, al-Udayd Base in Qatar, of the bases of al-Kharj and al-Khobar in land of Haramain, of the Fifth Fleet in Bahrain, the presence of their bases in Kuwait, of the French forces in the Emirates and the British forces in Oman - all of that is evidence of the aid the rulers of the Peninsula give to infidel warriors.

They are kaffir because of their persistent work with the secular governments against the establishment of any caliphate ruled by Islam as they did in Somalia, Iraq and Afghanistan.

They are kaffir because of their protection of newspapers and networks which insult Allah and religion, and mock the Messenger of the Muslims, prayers and peace upon him and his household, such as the al-Jumhuriyah newspaper, the official mouthpiece of Yemen.

None of us will forget the protection the Saudi government gave to Turki al-Hamed who said: "Allah and Satan are two sides of the same coin", Allah forbid, and other infidel acts. And some of their satellite networks air series and shows which make fun of religion.

They are kaffir because they do not implement Shari'a. The Almighty said: "If any fail to judge by what Allah hath revealed, they are unbelievers". (The Holy Quran, Surah 5. "The Table Spread", verse 44)

The clearest example of this is the presence of commercial and military courts in every country that falls under their control. Article 27 of the military courts regulation of the House of Saud states: "The ruler of the state - the king - alone has the right to implement, halt or substitute any sentence."

When they fight with each other, they appeal to the infidel international courts, such as the appeal made by Bahrain and Qatar to the international tribunal during their struggle over the artificial Sykes-Picot boundaries. Those apostate agents have among them combined to perpetrate many nullifications of Islam, such as supporting idolaters, suspending the law of Allah, and permitting and allowing (things) according to the opinion of man. They legalized usury, protecting and creating licenses for it. Their apostasy is gross and they must be deposed for perpetrating one violation of Islam, let alone perpetrating many such violations.

The situation into which the rulers of the Peninsula have fallen is the same situation, without exception, as all the Arab rulers. For they have become kaffir in the same way the rulers of the Peninsula have become infidels and may even surpass them in kufr.

In addition to the kufr and atheism of the rulers of the Peninsula, they have stormed all the doors of depravity and their usurious banks thrust up against the minarets of the Haram Allah. Their dissoluteness is also manifested in the protection of adultery and alcohol, the licensing of special places for this, spreading abominable acts in the circles of Muslim society and opening the Arabian Peninsula to debauchees from all infidel sects who are forbidden from even entering it, let alone behave immorally in it!

Dubai is considered a flagrant example of permitting indecency and immorality, and is a naked mark of disgrace on the forehead of every Muslim.

This depravity has also (resulted in) the taxes and customs some of them have imposed, and the permission some of them have given to build churches and mosques in the Arabian Peninsula, as is the case in Qatar, and opening the door wide for the Christianization under the name of charitable organizations and transforming the land of the unified Peninsula into petty sects and artificial borders.

Due to this extensive corruption, at which human nature recoils and by which character is sullied, it is our duty to combat them. Yet they have gone out to fight us, have raided our homes, haggled with us to forsake our religion and supported our enemies against us.

O Muslims, we are fighting in defense of our religion and you religion, our honor and your honor. If you do not fight with us, at least do not stand in our way as we fight those criminal traitors. We fight them in answer to the call by the Messenger, prayers and peace be upon him: "Whoever changes his religion, kill him."

On the authority of Ubadah bin al-Samet, may Allah be pleased with him, he said: "The Messenger of Allah, prayer and peace be upon him, called us and we pledged allegiance to him which obligated us not to contest the authority with his people unless we see obvious infidelity for which we have evidence from Allah." This is agreed upon (Hadith).

Also in the authenticated book of Ahmed and the Sunnah of Ibn Abi Asim, (they said do not compete against the rulers) "so long as they do not order you to (commit) a clear transgression."

Also in the narration of Habban Abi al-Nazr and in the Fath al-Bari of Ibn Hajar, "Not unless there is clear disobedience against Allah."

Imam al-Nawawi in his explanation of the authenticated book of Muslim that Qadi Ayyadh said: "The ulema are agreed that the Imamate cannot be entrusted to a kaffir and if he came to commit kufr he should be dismissed. It is also so if he abandoned prayer and supplication for it (the imamate)." His words end here, may Allah have mercy on him.

Qadi Ayyadh, may Allah have mercy on him, also said: "If he came to commit kufr, or a change to the Shari'a or an innovation he loses the authority of the state and obedience to him is nullified. The Muslims must rise up against him and remove him and install a just imam if they are able. If that happens to a certain group they must oust the kaffir, but they do not have to oust the innovator unless they think they are capable of that." That is the end of his words, may Allah have mercy on him.

Imam Ibn Hajar said in al-Fath: "If the Sultan shows clear infidelity, it is not permissible to obey him in that, but those who are able must wage jihad against him." That is the end of his words, may Allah have mercy on him.

O Muslims, this is the judgment of Allah on the rulers of the Peninsula and those like them. This is the ruling of his Messenger and the consensus of the ulema. By Allah, we believe this and we call upon those who doubt this to follow the truth as shown by the evidence.

O Muslims, the continuation of the traitorous rulers in the positions of authority (means) the continuation of the siege on Bayt al-Maqdis and the existence of Israel. If we fought those rulers for this reason alone it would be legal. How more so if they are refraining sects opposing the implementation of shari'a? The noble Companions unanimously approved fighting refraining sects, and the matter proceeded so and no one opposed the permissibility of it.

If it was unanimously permissible for a Muslim to defend himself against a hostile Muslim attacking him, and to fight back against him, how is it not permissible for us to defend against and fight the rulers and their supporters when they are attacking religion and honor, and are loyal to and guard the Jews and Christians? Even worse they fight those who fight the Jews and the Christians and throw them in prison.

It is also permissible for us to fight them through the accompanying ruling of using Muslim prisoners as human shields, bearing in mind the great difference between the righteousness of the Muslims and the corruption of the rulers. If it is permissible by consensus to kill Muslim prisoners if the infidels are using them as shields, all the more reason is it permissible to kill corrupt, treacherous and unjust Arab rulers, because America and Israel use them as a shield against all who wish to liberate al-Aqsa and to cleanse the country of the filth of the occupiers. Wake up, ulema of Islam!

Brave Muslim brother, who is it that stands in your face and prevents you if you wish to support your brothers in Gaza and liberate Bait al-Maqdis? Is it Israel or is it the treacherous Arab regimes?

I leave the answer to you. O proud tribes of Yemen, Hijaz and Najd: Would you be content to be ruled by Abu Jahl who fought and wronged the Messenger of Allah, prayer and peace be upon him?

If the answer is no, how is it that you are content that the grandsons of Abu Jahl are the rulers of the Peninsula? Rush to fight them until you reach Palestine, and liberate the country from occupation and the injustice of the kaffir, and until Allah's shari'a rules throughout the world.

O Muslims, we must take Divine commandments as a path to challenge the jahiliyah regimes and eradicate them completely. We must follow the steps, and take the conquests and plans of the Beloved, Allah's prayer and peace be upon him, to destroy the infidel Qureish regime. We must follow his steps, and seek enlightenment from his light, proceeding on his path in destroying the rulers of the Peninsula until Allah alone is worshipped and His law rules. How can we not destroy these lackey apostate regimes in whose shadow apostasy has spread, atheism has gone out of control, depravity has proliferated, and pains and illnesses have appeared? In their shadow, the dignity of the Muslims has been trampled upon and their honor violated. We have no solution for this crisis other than to destroy these ignorant views and replace them with Islamic shari'a.

This is exactly what the Mujahideen are doing all around the world. The Mujahideen in Afghanistan have restored, through the grace of Allah, 70% of their occupied land to the governance of Islam. This is admitted by the enemy himself. The people of the Swat Valley, by the blessing of Jihad, were able to uproot the secular regime from their land and govern according to shari'a, in response to what the Almighty said: "The Command rests with none but Allah". (The Holy Quran, Surah 12. "Yusuf", verse 40)

We beseech the Exalted Lord to keep them steadfast and give them victory. The enemies of the enforcement of shari'a have rallied around them from all sides to prevent them from implementing shari'a. The Mujahideen of the Islamic Emirate in the Caucasus and the Shabaab al-Mujahideen Movement in Somalia have been able, through the Grace of Allah, to implement shari'a in the lands falling under their control. The Jihadist movements are on the march from all sides, calling for the application of shari'a and fighting for its sake. The Mujahideen in the Islamic Maghreb are on the march to implement shari'a and they will arrive at their goal, Allah willing.

We here in the Arabian Peninsula are undertaking a missionary, scientific, practical Jihadist movement according to the way of the Prophet, prayer and peace be upon him, to eradicate the secular regimes that have existed in the Peninsula for decades so that shari'a may rule. We are completely certain of the restoration of divine, merciful shari'a by which we shall regain all the lands of the Muslims and cleanse al-Aqsa from the filth of the occupiers and their helpers. We shall worship only Allah, Who has no peer. We must understand that the oppression, and loss of wealth, and rights that have afflicted the Muslims has been caused by the absence of shari'a and the power of secularism.

If we know the cause, then we must be certain of the solution. The Islamic Ummah is determined to implement shari'a. We have witnessed this, we have seen this. The successive victories that we see today are the latest evidence that the Ummah desires to be ruled by shari'a. Allah willing, shari'a will rule and prevail over the earth, and encompass all the land. The people will live under the rule of Islam, and land will be filled with justice and tawheed as it was previously filled with oppression and polytheism. The people strive with all their strength to liberate themselves from jahiliyah regimes.

They have not been deceived by the lies and empty slogans of the apostate regimes. The people are increasingly turning their allegiance to the Mujahideen. The opening of their cities and their villages, their support and the multiplication of the Jihadist fronts is all an omen of the imminence of shari'a rule. The Islamic Ummah is a powerful nation, rejecting and disdaining humiliation, and struggling for liberation from the chains of secularism. We will not be able to rid ourselves of those rulers and apply shari'a unless we wage jihad fi sabeel Allah together and achieve tawheed. The Almighty said: "And fight them until there is no more tumult or oppression and there prevail justice and faith in Allah altogether and everywhere; but if they cease, verily Allah doth see all that they do". (The Holy Quran, Surah 8. "Spoils Of War", verse 39)

We must make clear to the people, the judgment of Allah upon the rulers of the Peninsula and publish the statements in this regard: that we disassociate ourselves from the governments of the rulers of the Peninsula, forsake those rulers and those who are with them.

This is the creed of forefather Ibrahim, peace be upon him: sincerity of worship to Allah, disavowal of the polytheists and their beliefs.

We must disassociate ourselves from any deed that strengthens their situation, their authority and their influence in the country and among the worshippers. The Almighty said: "There is for you an excellent example (to follow) in Ibrahim and those with him, when they said to their people: We are clear of you and whatever ye worship besides Allah: 'we have rejected you, and there has arisen between us and you enmity and hatred forever - unless ye believe in Allah and Him alone:' but not when Ibrahim said to his father: 'I will pray for forgiveness for thee, though I have no power (to get) aught on thy behalf from Allah.' (They prayed) 'Our Lord! In Thee do we trust, and to Thee do we turn in repentance: to Thee is (our) final goal'." (The Holy Quran, Surah 60. "She That Is To Be Examined", verse 4)

Moreover, in order to rid ourselves of the rule of the treacherous rulers, we must prepare weapons and force, and mobilize the Muslims to remove and destroy the rulers of the Peninsula. The Almighty said:

"Against them make ready your strength to the utmost of your power, including steeds of war, to strike terror into (the hearts of) the enemies, of Allah and your enemies, and others besides, whom ye may not know, but whom Allah doth know. Whatever ye shall spend in the Cause of Allah, shall be repaid unto you, and ye shall not be treated unjustly".
(The Holy Quran, Surah 8. "Spoils Of War", verse 60)

The inability to go forth (on Jihad) does not vindicate (one) from abandoning whatever preparation is possible. What is possible should be accomplished regardless of difficulties. The foundation of this is the Word of the Almighty: "So fear Allah as much as you can; listen and obey and spend in charity for the benefit of your own soul and those saved from the covetousness of their own souls. -they are the ones that achieve prosperity". (The Holy Quran, Surah 64. "Mutual Disillusion, Haggling", verse 16)

Preparing (for Jihad) should be spiritual, material, military - and if you achieve that, the day will come when you join the ranks of the Mujahideen, and we will all fight in order to apply the shari'a. The Sultan of the ulema al-Izz Ibn Abdul Salam said in his book Qawa'id al-Ahkam: "If someone is assigned to do a pious deed and he is able to accomplish some of it but unable to perform another part of it, if he comes with what he can achieve, he is released from doing what he cannot do."

Among the preparations (for Jihad) is finding money through legal sources such as booty, zakat, etc... and sending it to the Mujahideen to facilitate and hasten the fighting to implement shari'a.

The speakers, preachers, educators and teachers of Quran must bring into action their role in instructing and educating Muslims about shari'a using all means which lead to the application of shari'a through the mosques, places of learning and Friday pulpits, (by) giving lectures and seminars, etc... Every Muslim must make the truth of the Mujahideen known, the people of al Sunna wal-Jama'a, fighting to implement shari'a, and respond to the Western media and whoever follows its procedure in defaming the Mujahideen by distributing all of their video, audio and written publications in the community and popular circles, along with expanding the circle of those who support application of shari'a and vow to achieve this.

Here the role of ulema, preachers and teachers becomes prominent in calling upon the prominent men, the students of knowledge and general public among the Muslims to implement shari'a. The continuous call for application of shari'a is a vital duty which you, the scholars, must perform. It is a duty required by our times. If Allah asks you what efforts you made leading to the application of shari'a and you excuse yourself from fighting to applying shari'a using mainly weak excuses, what will be your excuse to Allah for your tardiness in preaching to the people, educating the youth and preparing them to restore the rule of shari'a on the earth? In the end, there must be a general outcry in all assemblies, and social and religious occasions for applying shari'a just as we call for observing prayers, and undertaking zakat and fasting. Allah permitting, we will implement shari'a just as it was implemented by the first troop (of Muslims).

The Islamic armies are marching against the lairs of the infidel and apostate regimes. But victory is patience of an hour. It seems to me that the Muslim countries will be governed by shari'a and tomorrow is not too long to wait.

O Allah, aid Islam and the Muslims and destroy Your enemies, the enemies of Religion!
O Allah, allow Your Book and the Sunnah of your Prophet to prevail!
O Allah, accept our martyrs, free our prisoners and give us victory over our enemy!
Our final prayer is that all praise is for Allah, the Lord of all that exists.

Translated by Ansar al-Mujahideen English Forum
Source: Al-Malahim Media Foundation
Kavkaz Center

[The law about apostacy is meant to stop spying and treason during war time. It is aimed at traitors like General Sissi and the King of Saudi Arabia who have reached high positions claiming to be Muslims. - Editor New Trend.]



2014-09-21 Sun 20:06:37 cdt
NewTrendMag.org